The power of food with Sunpedal's Yoko Koike
Tucked away on an unassuming street not far from Shinjuku, Yoko Koike's atelier is a hive of activity. The founder of Sunpedal, a vegan catering service with a burgeoning following, is busy putting the final touches on an assortment of dishes, adding garnishes and dressings to her vibrant creations. By the time she's finished, the kitchen counter is hidden beneath a colourful tapestry of dishes, ranging from curry inari sushi to shepherd's pie and a selection of her famous Energy Balls, carefully wrapped like candy. Stepping inside the compact atelier, Koike's second home of sorts, we begin to explore the world of Sunpedal.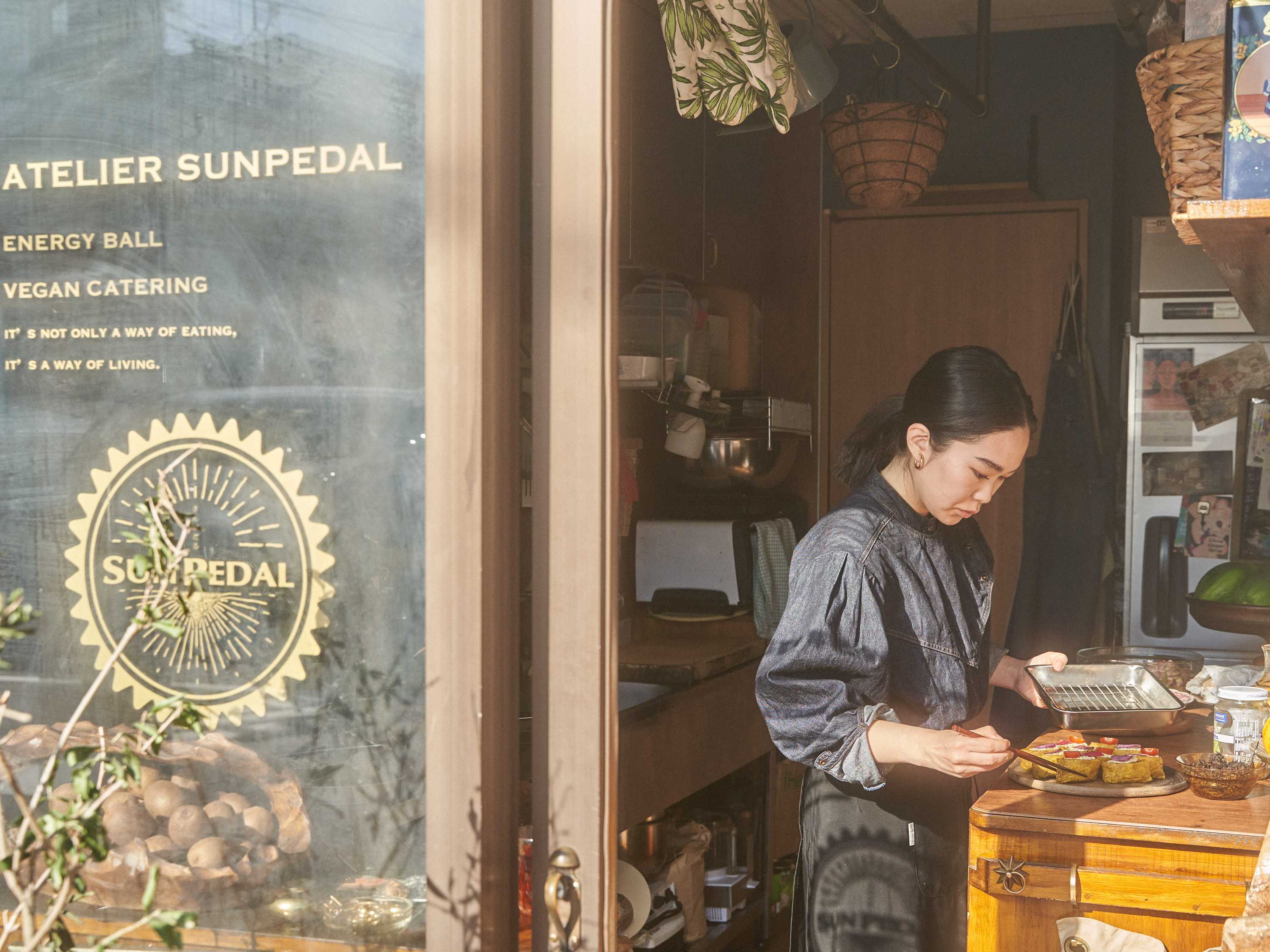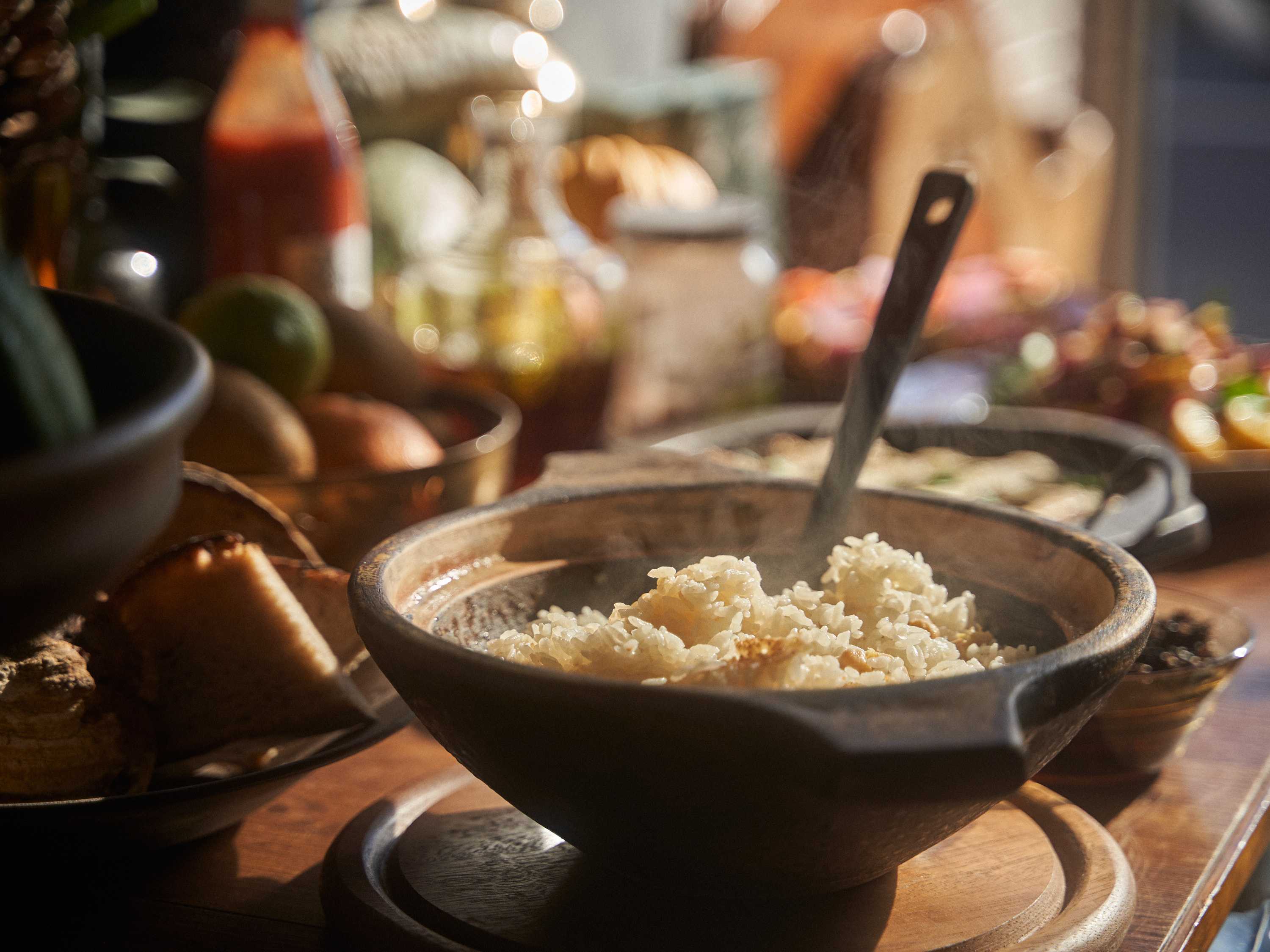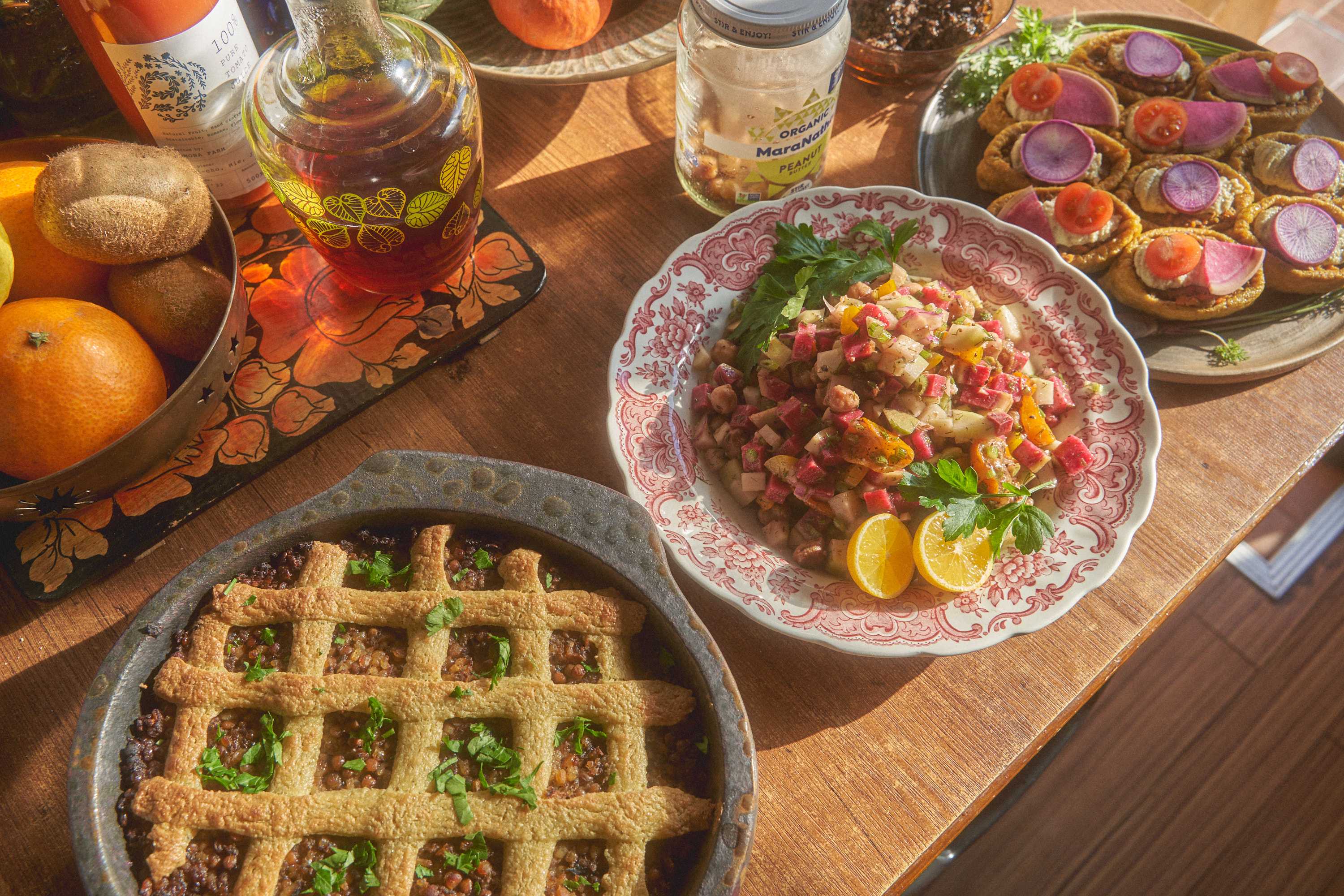 Koike's journey into the world of vegan cuisine can be traced back almost a decade to her days as a student in London. The city's vegetarian cuisine and melting pot of food culture left a strong impression on her and after returning to Japan, she started Sunpedal while working at a vegan restaurant. By 2018 Sunpedal had become her main focus. What began as a catering business has expanded to include a range of vegan sweets and treats, gaining a loyal following that can see online orders filled in a matter of minutes. "Sunpedal's food stimulates all five senses. It can be hard to imagine until you've taken that first bite," says Koike. "I cook with a sense of gratitude to the farmers and the people who put so much thought and passion into their produce."
At first glance, Sunpedal's burgers, burritos and cakes have a certain familiarity, yet their rich flavours and bold colours reveal an international fusion of sorts. Koike aims to evolve her cuisine naturally, rather than through prototypes, by incorporating ingredients, techniques and experiences that span the globe. Yet for the avid traveller, the pandemic has shifted her focus much closer to home. In late 2020 she began venturing to various corners of the country, meeting farmers and producers, exploring nature and learning about life in the regions. Those encounters inspired her to develop Sunpedal into a platform for connecting urban and rural communities through food.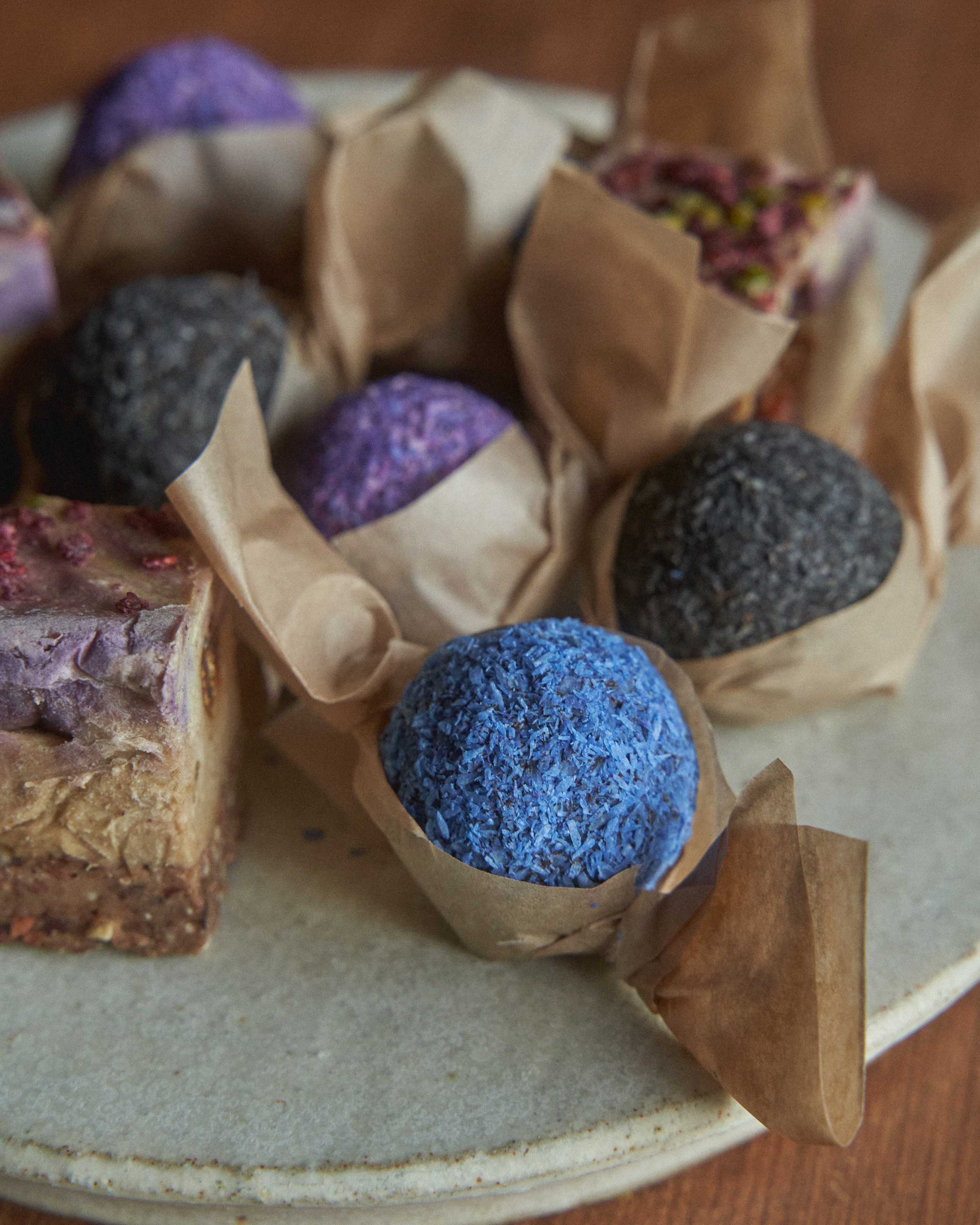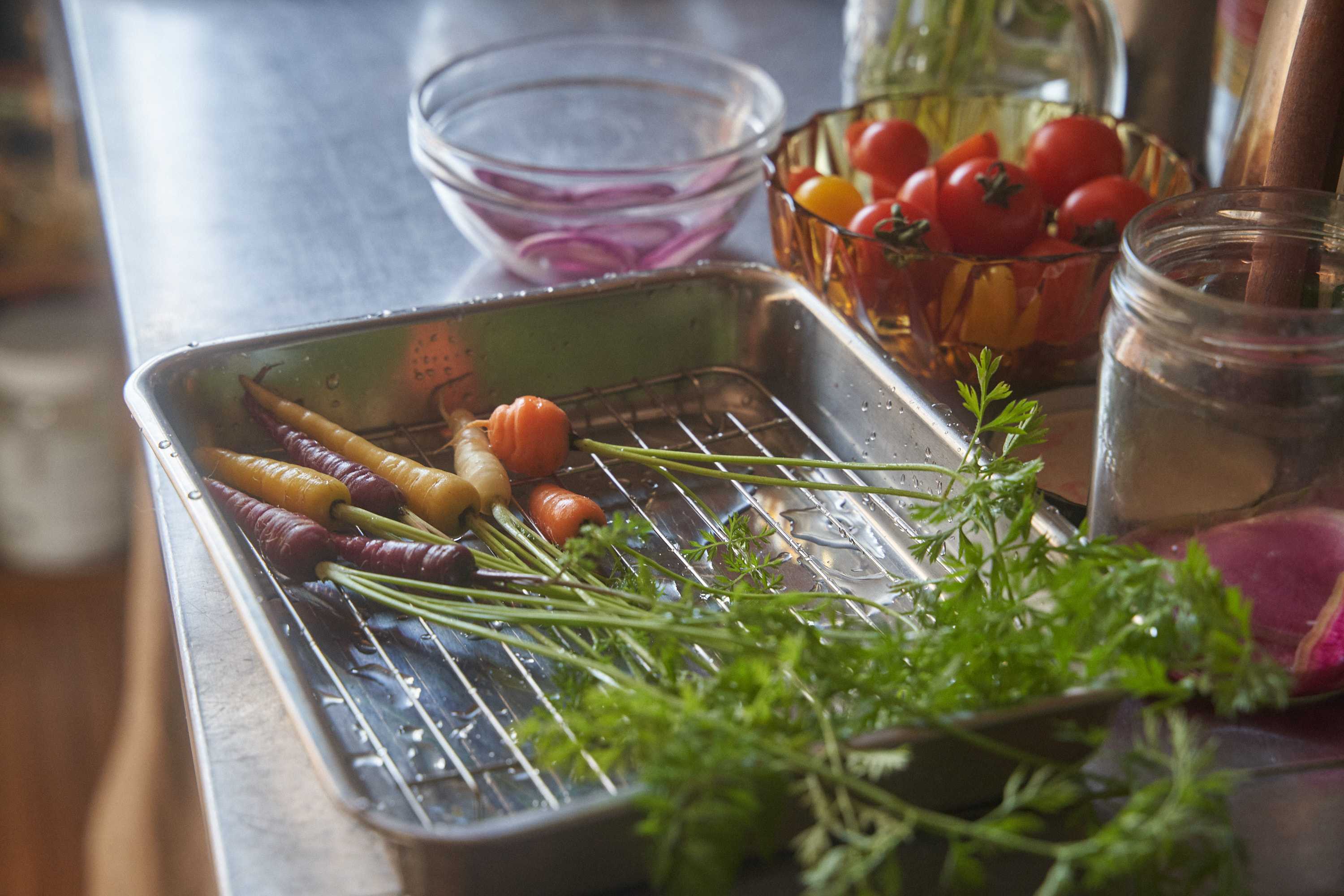 When we meet she's still on a high from a recent trip to Gunma, which saw her invite dozens of friends and producers to an open-air dinner at Acha Farm. Set against the backdrop of Akagi Mountain, the event brought to light the power of food, nature and community. It also marked the start of a new chapter for Koike, who hopes to bring more community-focused events to life in Tokyo and further afar.
Her passion for building new connections also inspired her first product, Sunpedal Shio, which will be released in February. The aromatic blend combines sea salt with sumac, sage and fourteen other organic and pesticide-free herbs and spices. As Koike explains, the aim is to bring the spirit of Sunpedal to homes throughout Japan. "My catering bento boxes and sweets come in a ready-made form. On the other hand, this herb salt can be used in countless ways, allowing customers to create dishes with a hint of Sunpedal's flavour."
Designed by Munich-based Tomomi Maezawa, the packaging shares the inspiration behind the product. Playful images capture memories of Koike's travels, along with the spices and herbs she encountered along the way. Taking one of the teal-coloured boxes in her hand, she adds: "It's designed to lift your mood, like a perfume, even by just having it in the kitchen."
Throughout our conversation and meal at the Sunpedal atelier, Koike's passion for connecting people through food shines through. Her cooking expresses the beauty of life's encounters and nourishes mind, body and soul. It's the kind of food that instantly brings a smile to your face, like a glorious burst of sunshine.
---
From February 2 to 8, Koike will host Sunpedal Tabi Marché at Isetan Shinjuku's Urban Closet, bringing together farmers, producers and creators she encountered on her 2021 travels.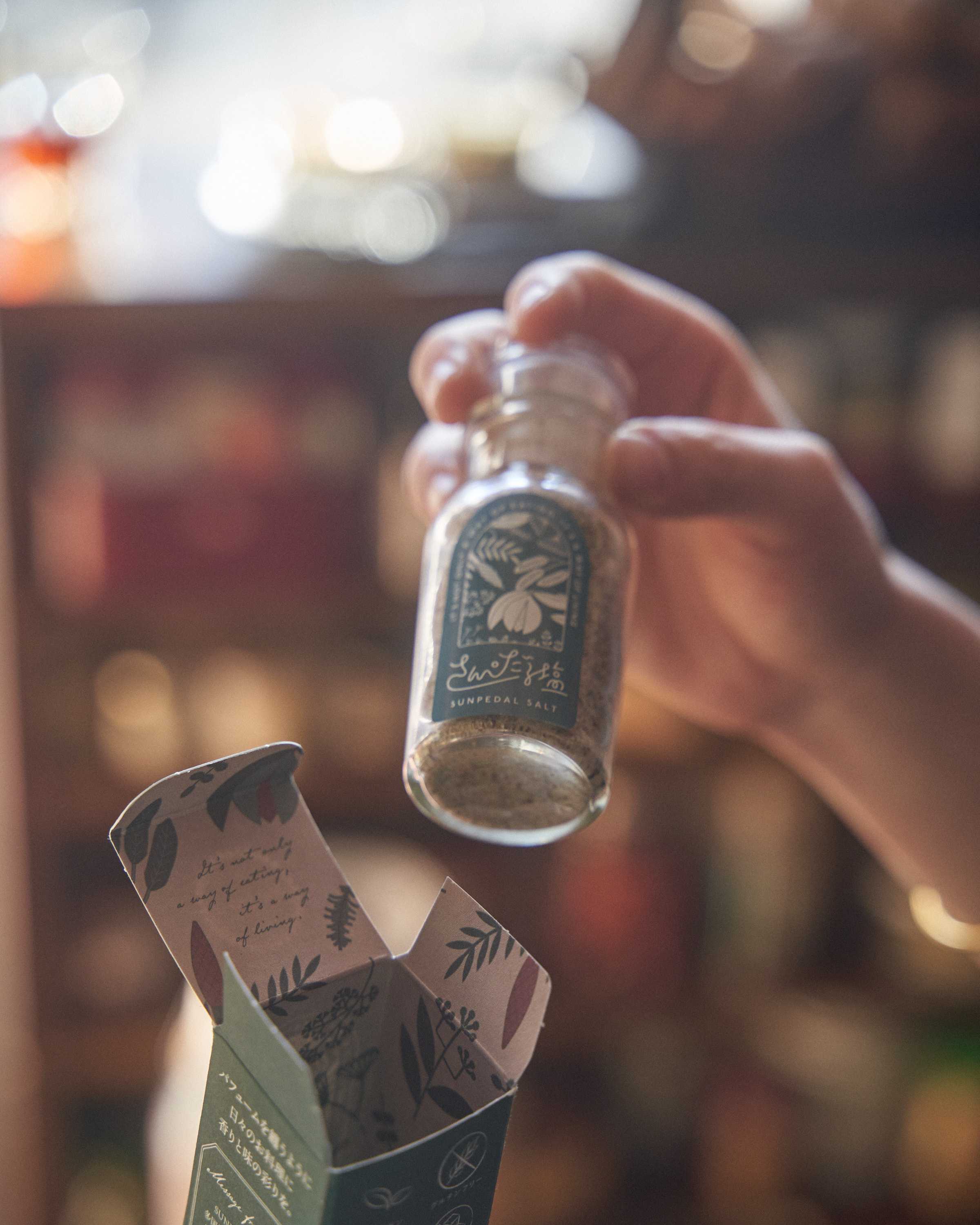 Text by Ben Davis
Photo by Daisuke Hashihara